Nike running shoe make from knitting machine
---
http://www.businessweek.com/articles/2012-03-15/is-nikes-flyknit-the-swoosh-of-the-future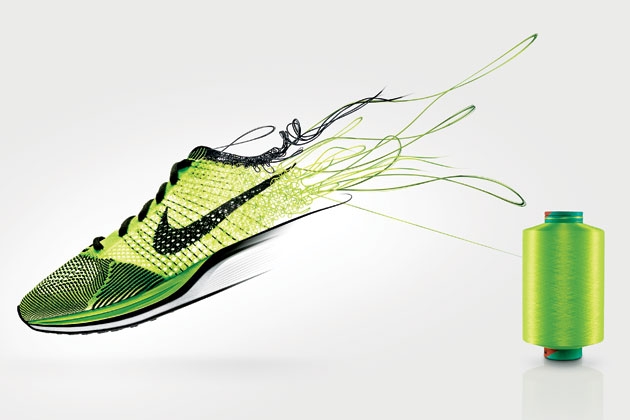 …a 5.6-ounce running shoe called the Flyknit, made from synthetic yarn ingeniously woven together by a knitting machine.
The computer-controlled weaving technology, which knits the entire upper part of the shoe in a single piece that's then attached to the sole, promises to cut labor costs and production time while also increasing profit margins and opportunities for personalization.
Flyknit, which will cost $150 and hits U.S. stores in July…
In a process Nike calls "micro-level precision engineering," proprietary software instructs the machine to minutely alter a shoe's stability and aesthetics.
…the software uses multiple layers of yarn of varying thickness. Nike plans to patent the process.
…the amount of material wasted manufacturing each pair weighs only as much as a sheet of paper, or about one-100th of a pound. Nike says the Flyknit produces 66 percent less waste than the Air Pegasus+ 28.
Nike makes 96 percent of its shoes in Vietnam, China, and Indonesia, where labor costs are low.
http://www.youtube.com/watch?v=Ev2sHur84sI

http://www.youtube.com/watch?v=lrTcQN0FxOs